Yooo. Ever wondered why Haven seemed to always have some changes in its system and management? It's simply because we like change. We love improvements. We started out weak, small, and full of flaws. But we try to improve everything as we go along to make Haven an interesting place for you to RP in.

And thus, as we approach the end of 2011,we will be having some major changes in the horizon that you may or may not like, but rest assured that we are giving our all to try to match it to your best interests.

RPG Haven 2011 is all just a prototype for the preparation of RPG Haven 2012. Think of it as a 'revamp' of the old Haven. You may have noticed the gradual changes happening around, starting off with the layout, and slowly with the new guides that will soon be finished. Included in these changes are the compilation of all topics and posts of 2011 to be moved on a single forum archive.


-----------------------

So dear members, If you are currently in RP topic/s right now, please make sure to finish them soon within this week or the next. We will be moving ALL topics in Haven into one forum, and continue with reforming the site. If you feel like you won't be able to finish your topic by next week, put a tag into your title. [XX] means we will leave it alone. But since we will be deleting some forums and categories, it is your responsibility to find your topic if ever we moved it somewhere. Just use the egosearch function then.

anyway, this is just an intro update. Be sure to also check the important announcements that will be posted later on.

cheers~
~ H.F.
_________________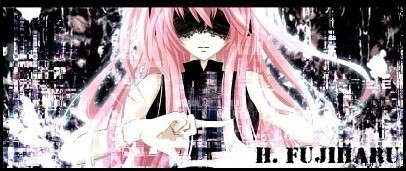 Notes:

Faceclaim:

Luka Megurine (Vocaloid)

Lightning (FFXIII)

The 3 Other Personalities:

~ Hikaru ~

Strength: Excellent

Speed: Below Average

Stamina: Average

Energy Source: Great

Intelligence: Poor

~ Fumiko ~

Strength: Poor

Speed: Excellent

Stamina: Below Average

Energy Source: Below Average

Intelligence: Excellent

~ Misora ~

Strength: Great

Speed: Great

Stamina: Average

Energy Source: Average

Intelligence: Poor
Administrator





Posts

: 1291


Money/Ryo

: 7932106



---
Permissions in this forum:
You
cannot
reply to topics in this forum